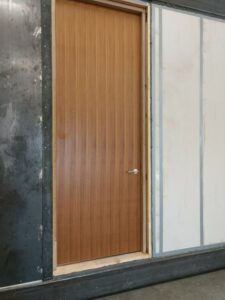 Have you ever stayed in a hotel room where you can literally hear the conversations of  EVERYONE walking down the hallway?    Great if you're an ambitious private eye…not so great if you want some shut eye.
After watching some of the top architects and sound consultants weigh in, here are some of the top items to include when trying to create a quiet environment for your next hotel, office, condo, apartment, senior living project.
Proper Door Gasketing: This often gets overlooked and is one of the most important items to reduce noise.    "Most projects focus on the walls and doors" says Jacob Kluger, co-founder of Grandoor Frames.   "But it's the gaps we are often worried about.   Seal the gaps and you'll seal the noise."
Door Bottom: Along with the gasketing, a door bottom (or auto door bottom) is crucial to prevent sound waves from traveling underneath the door.    Products to consider are Pemko (Assa Abloy) and Zero (Allegion).
Door Frame: Most people don't know this, but sound testing labs completely FILL metal frames with MORTAR when assessing STC (Sound Transmission Coefficient) ratings.    Yet, mortar is NOT a requirement to maintain the fire ratings, which means the chances are highly likely that the gap between the frame and the wall is completely HOLLOW.
This is why wood frames are gaining in popularity when silence is a priority.   Some companies, like Grandoor Frames, have STC tested their frames and can achieve ratings well into the 30s approaching STC 40.   Combined with the ability to be fire rated up to 90 minutes, this makes it a wise option for guest entry doors at hotels; resident entry doors at apartments/condos/senior/assisted living facilities; or any other peace seeking design missions.    Can I get a "Hall-leluyah?!"