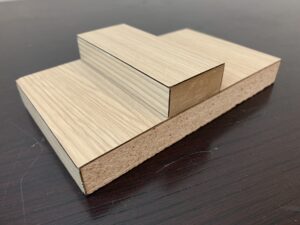 High Pressure Laminate Doors are a common choice today for schools, universities, medical facilities, government, airport, and office buildings. Many cite 1) durability, 2) wide array of design patterns, 3) no need to paint or stain, and 4) general ease of maintenance as reasons for their popularity with the architectural and design community.    Major players include WilsonArt, Formica, and Nevamar.
Too often however, these laminate doors are mismatched into a painted hollow metal or pre-finished steel frames, which usually come in standard color choices of white, brown, black, or aluminum.  Ugh!   This creates a glaring inconsistency in design, and ends up as a missed opportunity due to the synergies that could be carried from the door right into a matching high-pressure laminate jamb.  Historically, the argument for metal frames was that most public-use projects require fire ratings not available with HP laminates.
The good news is that technology has advanced to now make this a moot point.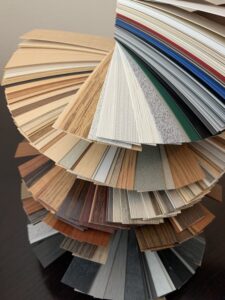 Firms like Grandoor Frames are leading the charge with its fire rated capabilities in high pressure  laminate and wood veneers. Fire ratings are available in 20 minute, 45 minute, 60 minute, and 90 minute options (non rated frames are also available).  Plus,  square corners similarly match the door which provides an architecturally-appealing, WOW-factor combination.   Additionally, projects that want to minimize sound will benefit from STC ratings up to STC 38.   Standard heights at 7'0″, 8'0″ and 9'0″ with custom capabilities in height, width, and wall depth.
Post Note: Imagine the possibilities of using complementing or contrasting laminates to carry one theme into another.   Putting on our design hat – ideas might include… ||  Door: Light wood veneer & Frame: dark wood veneer.  ||  Door: Exotic wood veneer & Frame granite rock veneer.  ||   Door: Brooklyn or Golden Gate Bridge veneer  & Frame: waterway veneer.   || Okay, Okay, we'll stop there and leave it to the professionals!!   Who knew designing doors and frames could be so much fun?