One of the coolest trends in interior design today is Barn Slider Doors.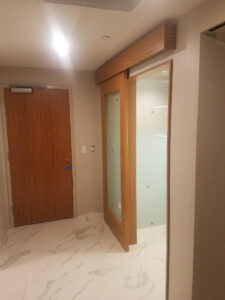 Benefits include:
Aesthetic Benefit: A slider showcases a beautifully crafted door (hopefully), which acts like a wall mounted piece of art. It can ultimately help shape the overall design of the room.
Functional Benefit: Anecdotal evidence by a national hotel chain has shown that a barn slider door can make a hotel bathroom feel 25% larger over using a traditional inswing door, making it a great space saver for architects and owners to best maximize the layout.
HARDWARE: Choosing the hardware track involves choices of exposed or concealed looks, regular or soft-close, and track guides.   Some reliable track manufacturers to consider include HAWA, Hafele, Hager, and Richelieu.  More and more, hotels, condos, senior living, and other commercial spaces are selecting a top-mounted concealed track with a matching wood valance which helps create a more streamlined, polished look.
This photo showcases this matching look in a hospitality application.  The afromosia wood for the barn bath slider doors is complemented by using valances.   Afromosia, which is sometimes called African Teak, lends itself well to this application with its distinct striped look.    Grandoor Frames now manufactures these custom-sized prefinished Valance boxes to match.   A couple questions to ask when selecting a manufacturer.
Mitered Corners.  One of the most important questions to ask is how are the valance ends treated?  Butt Jointed ends will look substandard and will compromise the polished look.  Mitered corners should be a top priority.
Matching Finish.  Can the valance match the veneer and finish of the door and cased opening?  Always request a sample to match.
Assembly.  Do you want the boxes to show up assembled or knocked down?   Preassembled valance boxes can minimize handling, headache, and time spent by the on-site crew with installation.
For more information about using Grandoor Frames – or should we say Grandoor Valances 😉 – please contact us directly at 210-322-5900.
Ideal for: Hotels & Resorts, Multi-family & Condos, Corporate Conference Rooms & Open spaces, ADA & Senior Housing