For those of us with kids, connecting or inter-leading or adjoining hotel rooms are a blessing.  A little noise from the next room is more than worth the break!    For most others however, the increased noise is exasperating!*! and a more appropriate label might be to call them "avoiding" rooms.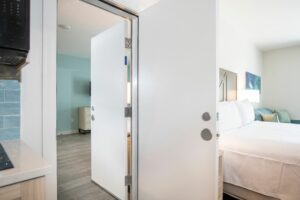 Mitigating sound through connecting room doors is often hampered by several items. This includes the wrong gasketing, the wrong door, and opting for a hollow metal frame -all of which can have a deleterious effect (STC ratings of 30 or less).   Now with options like Grandoor Frames, which has tested their fire-rated wood door frames up to STC 38, sound ambiance can be a selling point of a room.
Design-wise, we also love the use of wood which easily allows for any wall width, matching paint or stain detail, and unlimited casing options.
Regardless of what terms we use for these types of rooms, may we ultimately be able to call them all quiet rooms.