Grandoor Frames have been tested to address the full array of fire rated requirements including 20 minute, 45 minute, 60 minute, and 90 minute ratings. The frames meet UL10B, UL10C and NFPA standards. Jamb details and cut sheets for each rating can be found below. Since Grandoor Frames are built to order, customization and modifications on these details are an option.
Non-rated wood jambs are also available in many options, and can be customized as needed. From primed finger joint (FJ) pine to solid white oak, Grandoor Frames offers knocked down jambs in a variety of veneer options including Paint Grade | Alder | Anigre | Birch | Cherry | Ebony | Fir | Poplar | Mahogany | Maple | Pine | White Oak | Red Oak | Sapele | Teak | Walnut | plus other veneers. In certain cases, clients can provide Grandoor Frames with the veneer they are using to match other material onsite. Jambs can come raw, primed, Finish painted, clear coated, or stained. All hardware preps are available.
Certain situations call out for additional light between rooms, but had been faced with limitations should the opening need to be fire rated wood. Grandoor Frames now offers fire rated sidelites, transoms, and borrowed lites in both 20 minute ratings and 45 minute ratings. See our technical section for sizing options.
While we can pair our frames with any fire-rated door on the market, we are pleased to include doors with our frames when requested. With over 30 years of industry knowledge, we can provide hard-to-source source fire-rated doors to match our door frames.
As more hotels, condos, offices, etc. opt for a more polished, modern interior look while incorporating barn slider doors, concealing the barn door track hardware is of keen interest. To assist, Grandoor Frames offers customized valance boxes. Boxes are all built to size, can match the veneer being used on the doors, and can ship assembled or knocked down for field assembly. Have a questions or idea for something else, please call us!
General options include: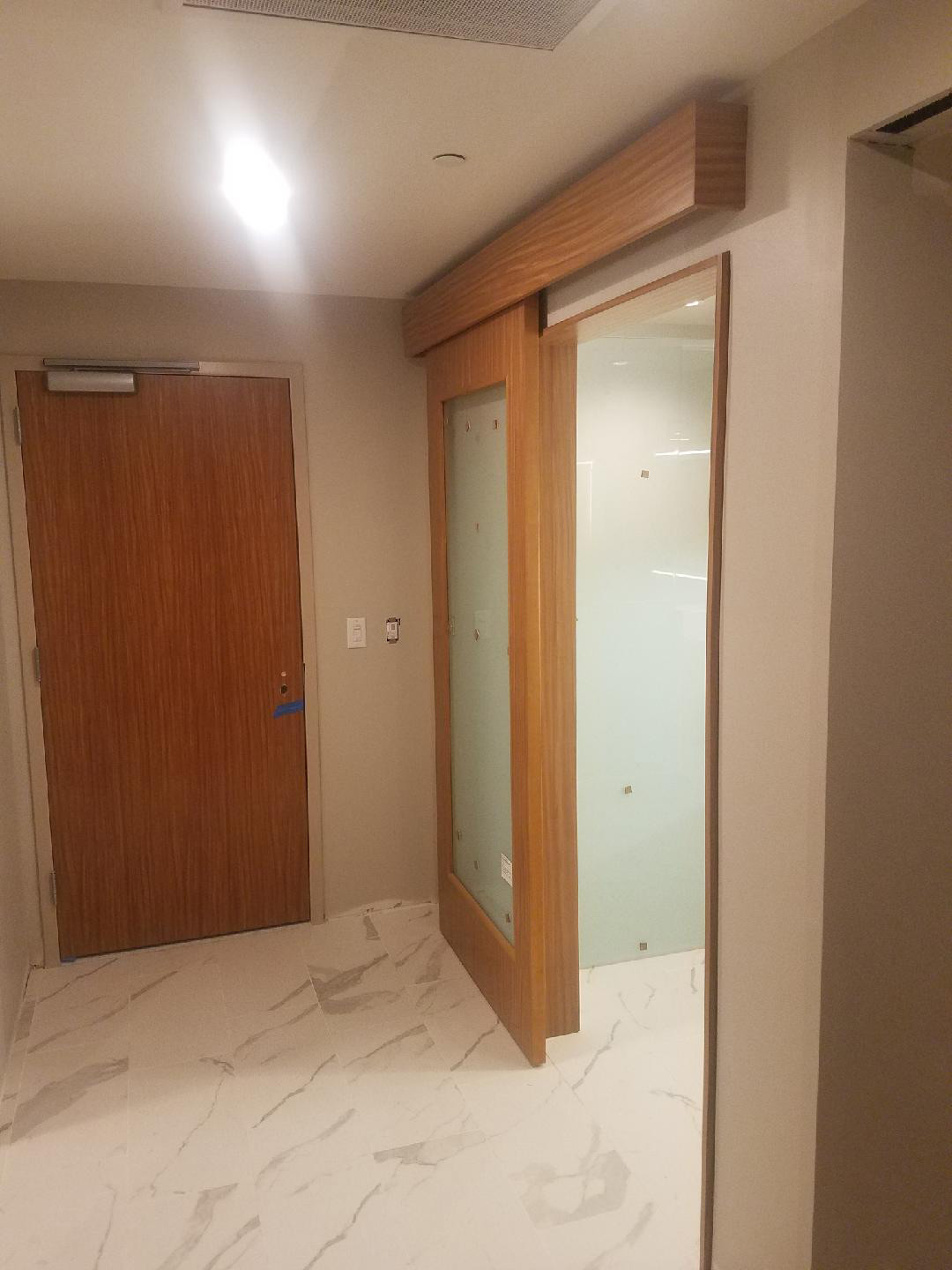 One or both sides face veneered
Mitering at corners
Open or closed box-top
Knocked down or assembled
Contemporary or classic look
Primed or prefinished
BONFIRE Adjustable Frame
First ever Affordable, Adjustable Fire Rated Wood Door frame from 4-1/2" to 7-1/4". Rated up to 1 hour (60 minutes). Pre-prepped for hardware. Ideal for situations where wall widths don't conform to standard dimensions, or might vary from plan detail.
Concealed Closer Frames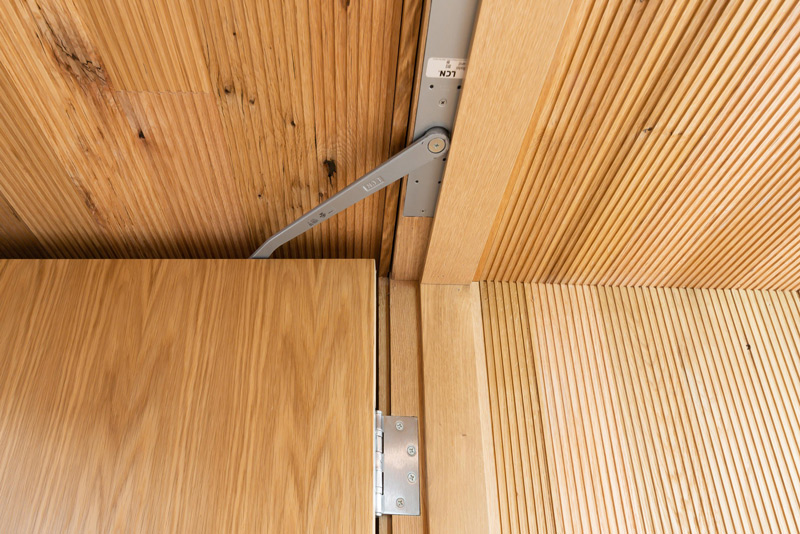 A commonly mentioned challenge by design teams of bespoke hotels, condos, senior living, and corporate interiors is the unsightliness of overhead closers on unit entry doors. In response to their wishes, Grandoor
Frames is proud to now offer the design community the ability to CONCEAL THE OVERHEAD CLOSER INSIDE the wood door frame! Now offered up to 90 minute fire rated. See our Technical section for more details.
Hidden Fire Door Frames
Making a door blend in with its surroundings has been a challenge when it comes to wood fire rated doors. The team at Grandoor Frames has worked with leading design teams across the country to create options for most hotels and condos looking to create a seamless, sleek look along a corridor.
EDGE Series
After innovating doors for decades, we are excited to offer a new way to customize fire rated wood door frames. See our technical section for profiles that can be used and we hope this inspires you to re-look at the doorframe as a nuanced designer advantage!
No Casing Option
Grandoor Frames do not require casing to meet fire ratings. If casing is desired, any wood casing can be used.
Pocket Pivot Hinge Fire Rated Wood Doors
For elevator areas or other situations where it is desirable to have the door out of the way, Pocket pivot hinges are a terrific option. If you are looking for a wooden door look over metal, we are excited to talk further.