Need a custom detail? No problem! We build everything to order allowing you the ability to easily customize to your specific requirements. Contact us for a custom CAD drawing.
Grandoor Frames have been tested to address the full array of fire rated requirements including 20 minute, 45 minute, 60 minute, and 90 minute ratings. The frames meet UL10B, UL10C and NFPA standards. Jamb details and cut sheets for each rating can be found below. Since Grandoor Frames are built to order, customization and modifications on these details are an option.
Single (Max Size)
Pair (Max Size)
Minimum Frame Width
Single Rabbet or Double Rabbet
Rough Opening Size
Custom Options
20 Minute Fire Rating
4/0 x 9/6
8/0 x 9/0
4 1/2"
YES
Door Width: +2"
Door Height: +1 1/2"
YES
45 Minute Fire Rating
4/0 x 9/6
8/0 x 9/0
4 1/2"
YES
Door Width: +2"
Door Height: +1 1/2"
YES
60 Minute Fire Rating
4/0 x 9/0
7/0 x 9/0
4 1/2"
YES
Door Width: +2"
Door Height: +1 1/2"
YES
90 Minute Fire Rating
3/6 x 9/0
7/0 x 9/0
4 3/4"
YES
Door Width: +2"
Door Height: +1 1/2"
YES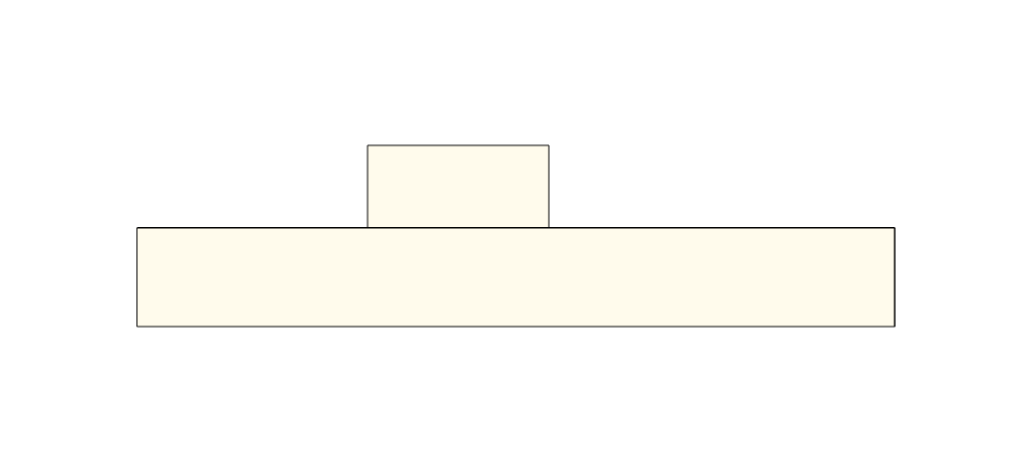 Standard Double Rabbet (DR)

Standard Single Rabbet (SR)
Certain situations call out for additional light between rooms, but had been faced with limitations should the opening need to be fire rated wood. Grandoor Frames now offers fire rated sidelites, transoms, and borrowed lites in both 20 minute ratings and 45 minute ratings. See our technical section for sizing options.
Maximum Dimmensions
(including Door)
Minimum Frame Width
Rough Opening Size
Max Glass Size
20 Minute
Sidelite/Transom
8/0 x 10/0
4 1/2"
Add 1" to frame size
(1/2" gap around frame)

--
45 Minute
Sidelite/Transom
6/0 x 10/0
4 1/2"
Add 1" to frame size
(1/2" gap around frame)

--
20 and 45 minute
Borrowed Lite
6/0 x 10/0
4 1/2"
Add 1" to frame size
(1/2" gap around frame)
24" x 77"
In our loud, "always on" society, SILENCE is truly golden, yet often unattainable. This noisy epidemic is partially due to the fact that the International Building Code (IBC) does not have requirements for minimizing noise through door frames – only walls, windows, etc. Without any requirements, the responsibility falls to astute architects, builders, and developers to ask the questions up front.
Grandoor Frames has independently tested our fire rated door frames with Architectural Testing Inc (Intertek). Our fire-rated wood frames achieved a remarkable STC 40 rating using basic Pemko seals. This is greater than most wood doors on the market today, assuring your desired STC level doesn't slip through the cracks.
Need doorframes (fire rated or not) that are over 36″ in width or 96″ in height? No problem! Wide, tall, deep, and thick doorframes are a common occurrence with Grandoor Frames since we Build to Order. Whether it is a condo in NYC looking to create a 90 minute rated "grand" entrance (9'0 tall or higher), or a commercial application that has to meet ADA requirements, we've built it. Some general parameters to keep in mind.
FRAME WIDTH: Up to 48″ wide to accommodate doors
FRAME HEIGHTS: Up to 10′ (call for details)
WALL FRAME DEPTH: 12″ – no maximum.
FRAME THICKNESS:  ¾" up to 3″ thick (and everything in between)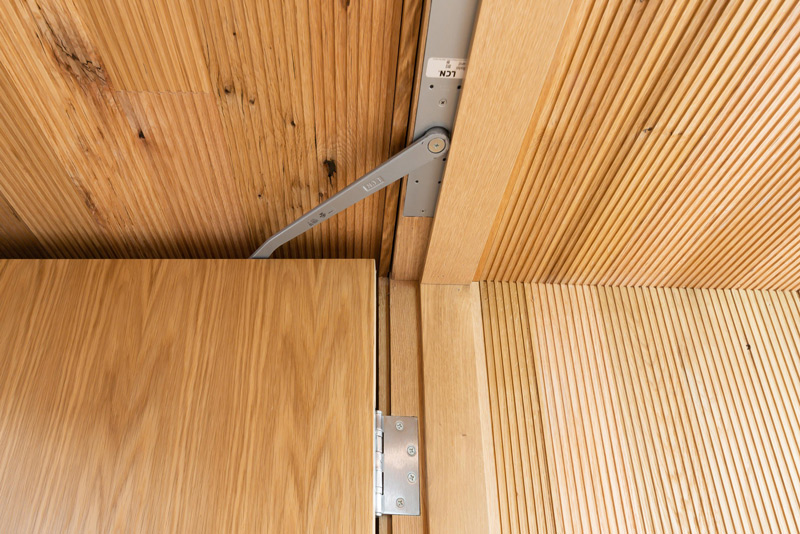 A commonly mentioned challenge by design teams of bespoke hotels, condos, senior living, and corporate interiors is the unsightliness of overhead closers on unit entry doors.
In response to their wishes, Grandoor Frames is proud to now offer the design community the ability to CONCEAL THE OVERHEAD CLOSER INSIDE the wood door frame!
Concealed Closer Fire Ratings: 20 minute, 45 minute, 60 minute, and 90 minute options
Wood Veneer Options:  available in both painted and assorted veneers.
Edge Detail: Available in Single Rabbet and Double Rabbet options (can be customized).
Hinge/Strike Legs:  Typically standard ¾" thick, but can be thicker to match frame header.
Contact us for specific details or custom requests about how this can apply to your project.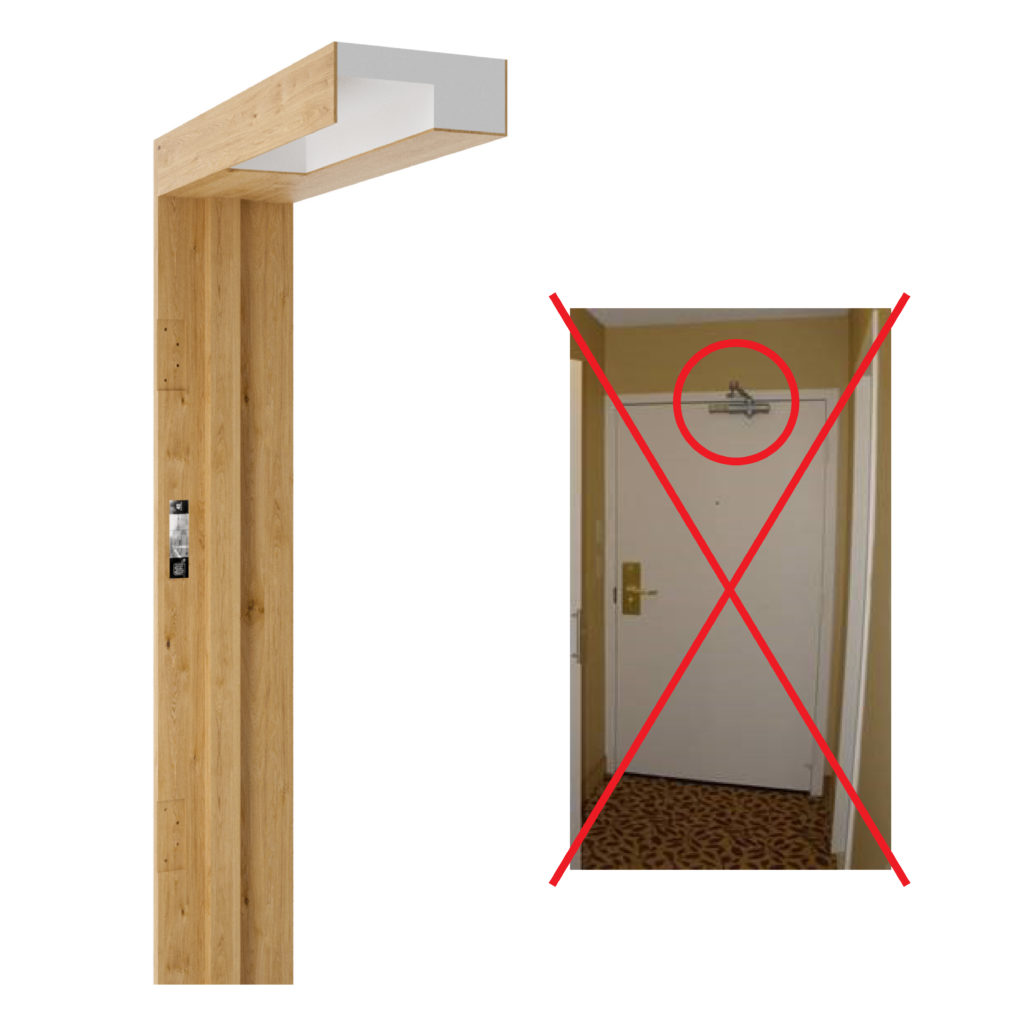 Example of 45 Minute Concealed Closer Wood Frame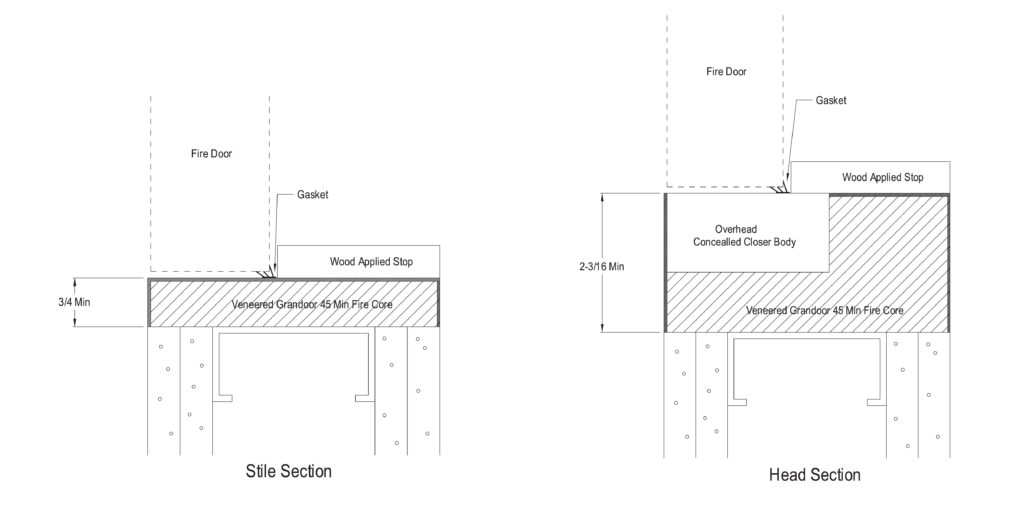 Veneered to Job Specification
All our door frames are prepped for hardware. When submitting an order, please include a completed jamb machining sheet (our version below), or your standard machining sheet, along with templates for hardware being used.
Handling, Finishing and Warranty
We pride ourselves at creating consistent quality frames for your project. As such, Grandoor Frames include a 2 year limited product warranty. Please contact us for full details.
While there is a jamb minimum, there is NO maximum. We have provided jambs 12″ wide and 24″ wide. The sky's the limit.
We designed our frames to be the easiest to install in the industry using our simplified angle brackets. All jambs ship knocked down (in 3 pieces) with installers in mind. No need for shims, mineral wool, or nailing right through the stop.
Sure, we have seen requests for small fire rated doors for special areas. Frames are all customized to order.
ABSOLUTELY. We find Grandoors to have the most affordable fire rated wood frames available on the market today. This is achieved by using our own proprietary fire tested materials to achieve the fire ratings.
Yes, the CLOSER body can be concealed in the jamb header up to 45 minutes.
No, we are happy to supply one or more frames. Sometimes this is required in a house-to-garage door where a 45 minute, 60 minute, or 90 minute frame is required. Other projects such as historic preservation or office space require just one frame in a fire rated application.
Absolutely! Grandoor Frames can be paired with any fire rated door on the market.
On occasion, we do supply fire rated doors to match our wood frames for aesthetics or convenience of the project.
We are tested and meet UL 10B, UL 10C, and NFPA 252 Standards.
Casing is optional on our fire rated wood frames.   Any regular wood casing can be used, and does not affect the fire rating.